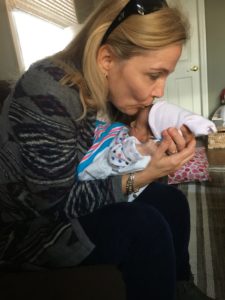 My Birth Doula services include: 
One free, introductory meeting at a coffee shop to get to know each other and see if I am a good match for your family, needs and personality

Once you hire me, I will be available for phone calls and emails during business hours in case you have questions or concerns

I will meet with you at least twice before the birth (2 hours each)  to help you develop a birth plan, work on personalized relaxation and comfort techniques, go over labor positions,  aspects of newborn behavior/ needs, questions etc.
From week 37-42 I will be on call (24 hours a day, 7 days a week)
At the beginning of labor, I will support you on the phone and will join you either at home or your birthplace as soon as you feel the need for me to join you
I will continuously support you/and your partner throughout the labor and birth process no matter how long it will take
I will help you with getting breastfeeding started (if that is your choice) and understanding your baby's first cues
I will stay with you for 1 or 2 hours after your precious baby's birth or until you are both settled and well on the road to recovery
I will do one postpartum visit around 2-3 weeks after the birth to go over your birth and to make sure you are both doing well. I will keep an eye out for signs of postpartum depression and will most certainly enjoy your baby!!
I will also continue to be available for any questions, concerns or professional referrals and resources for 6 weeks after the birth.
The fee for my Birth Doula Services is $1000.  A retainer fee of  $500 will be due when you sign the contract, the remaining $500 will be due at your second prenatal meeting ( around week 35- 37 of your pregnancy).
I'm committed to supporting all moms who would like a doula and will offer a discount  according to specific need or special circumstances.
Additional prenatal visits to help mom relax and be better prepared Combining all the comfort techniques & labor positions with relaxation/ breathing/ gentle birthing /yoga  like methods that I tailor specifically to the individual needs of the mom  so that she can enter into that same relaxation mode easily during labor                                       cost: $35 an hour
My Postpartum Doula services include:
One free, introductory meeting at a coffee shop to get to know each other and see if I am a good match for your family, needs and personality

guidance, tips and help with all aspects of newborn care, including newborn behavior, feeding clues, breast/bottle feeding, bathing, sleep etc.

helping you gain a new way of balance and normalcy during this time of big transition through emotional and hands on support

helping you understand and respond to your newborn's clues and needs (physically and emotionally) and thereby deepening your mutual bonding

"mothering the mother" – offering you well needed rest to better recover and adjust to your new role as a mom

calm, nurturing and non judgmental companionship

facilitating you to find your own parenting style

help with laundry, meal preparation, shopping and household organization

loving attention for the siblings to help them adjust better to the new family situation
daytime (3 hours minimum),  occasional overnight care (10pm-6am)
The fees for my Postpartum Doula Services are:
$30* per hour (3 hours min.) – *$35 from Jan. 2020 onwards
$240* occasional overnight (10pm-6am) – *$280 from Jan. 2020 onwards