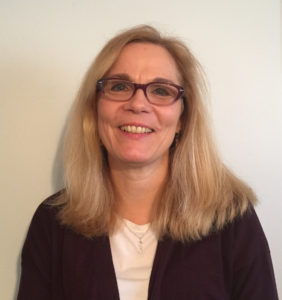 From very early on I loved helping my neighbors in Austria with their babies and little children. I babysat whenever I could. In my mid-teenage years, I moved to Vienna where I trained as a kindergarten teacher and worked with babies and young children. Later I had the privilege to live and work in various countries and continents, married an Englishman and was blessed with two boys. Since 2003 my husband and I have raised our sons here in New Jersey and call it home. I continued my education and earned a master's degree in pastoral counseling and worked with adults and youth for six years. My passion for babies and my love of helping people, combined with my training and  counseling skills led me to become a doula. It is my desire to support expectant moms and dads during pregnancy, labor and the early stages of parenthood in order to alleviate stress and anxiety during this unique time in their lives. The birth of a child is truly a miraculous event. My expertise helps parents to have meaningful and memorable experiences as they embark on their journey to parenthood.
Experience and continued Education:
1983 graduated as a kindergarten teacher in Austria and worked with babies and older children for 5 years
1988 au-pair for a year in a family with 4 children, England
1997 – now: raised my two boys; led two moms and toddler groups
2008:  BA Clinical Pastoral Counseling, Calvary Theological Seminary, USA
2010: MA Clinical Pastoral Counseling, Cornerstone University, USA – followed by 6 years  counseling experience
2009-10: assistant at University-NOW Day Nursery, Princeton NJ
2012-14: caring for a friend's baby/toddler
2016: DONA Birth Doula Training (Birth Doula Workshop & Childbirth class)
January 2017: DONA Breastfeeding course
2017: attended Hypnobirthing classes
July 2017: DONA Postpartum Doula Training
summer 2017: online DONA virtual conference
August 2017: attended "Spinning Babies" workshop by Gail Tully
Oct 10th 2017: CD(DONA) – DONA – birth doula certification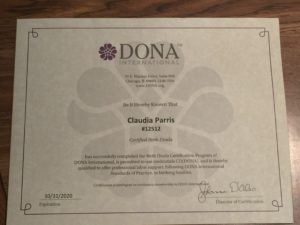 Nov 2017: attended the "Symposium for Physiologic birth" (How to help families get Evidence Based Care; Increasing access to Evidence Based Maternity Care options in NJ; Waterbirth; Home Birth Transfers")
Jan 2018: CPR/BLS certification (American Heart Association)
June 2018: "Using TENS in Labor" workshop by Penny Bussell-Stansfield
July 2018: "Holding Space for Pregnancy Loss" 15 hour online training and certificate – Amy Wright Glenn
August 2018:  PCD(DONA) – DONA-postpartum doula certification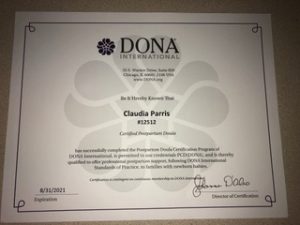 October 2018:  Blossoming Bellies Workshop " Creating Space: Pelvic Bodywork, Fetal Positioning, and the Use of Rebozo" by Brittany McCollum
October 2018: online DONA virtual conference
November 2018:  "Breastleeping" an online seminar by James McKenna
Nov 2018: "What happens if she screens positive for postpartum depression?"  webinar by Nancy Byatt, Harvard Health
Jan 2019: started volunteering at UNITE perinatal bereavement meetings through the Princeton Hospital
March 2019: "The art of holding perinatal women in distress" intensive postgraduate Postpartum-depression training by Karen Kleiman, The Postpartum Stress Center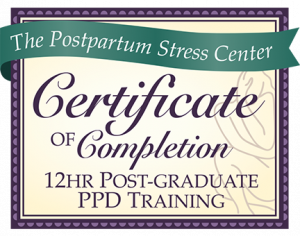 April 2019: presentation: "Does Breastfeeding Protect Maternal Mental Health? The Role of Oxytocin and Stress" by Kathleen Kendall-Tackett, PhD, IBCLC, FAPA.
Sept. 2019: "A day to study" lactation techniques, breast/nipple conditions, maternal challenges etc.  with Kay Hoover and Carmen Baker
Nov 2019: The New Jersey Symposium for Physiologic Birth: 2019 in Defense of Normal Birth conference
Feb 2020:  attended a 2 day Spinning Babies workshop
July 2020: PSI (Postpartum Support International) Perinatal Mood Disorders: Components of Care – Certificate of Completion & Perinatal Mental Health Advanced Psychotherapy Training
March 2021: certified as a lactation counselor (CLC) by the ALPP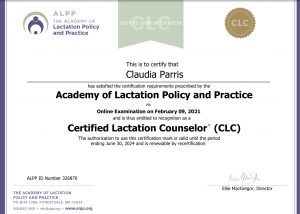 May 2021: "Infant sleep: What do doulas need to know?" Dr. Helen L. Ball
Oct 2021: Spinning Babies® online course "Resolving Shoulder Dystocia"
Feb 2022: certified as a Body Ready MethodSM Professional: comprehensive training in creating balance, mobility and stability to prepare pregnant mamas' bodies 1 on 1 to be empowered and optimized for pregnancy, birth and recovery – looking at alignment, breathing strategies, core and pelvic floor function; helping to alleviate common pregnancy aches and discomforts
May 2022: completed Gilligan's Guide doula training
June 2023: Perinatal Loss: Clinical and Supportive Care (PSI)
Languages:
Fluent in English and German; conversational in French
Hospital experience:
Princeton/Plainsboro,  Capital Health,  Doylestown,  Abington,  Morristown,  The Overlook Summit NJ,  St. Peter's New Brunswick,  Mary V. O'Shea Birth Center, Community Medical Center Toms River, Saint Barnabas,  Virtua Hospital Vorhees, Hunterdon Medical Center, RWJ New Brunswick, Holy Redeemer, Christiana 
In case your hospital isn't on the list, I am always happy to support births at the  hospital of your choice and will try my best to tour the hospital prior to your due date.
Homebirths:
I thoroughly enjoy home births – supporting moms and partners alongside experienced midwives in the comfort of their own home!