"Its hard to put into words how important of a role Claudia played in my daughters birth (before and after). Shes always been the person to turn to with any fear, doubts, questions, or concerns. Claudia always gave me the tools I needed and very much prepared me AND my fiance for birth. She had answers for questions I hadnt even thought of…its amazing how knowledgable and experienced she is in her field. My fiance was skeptical of using a doula because of the additional cost it brings along with the other bills from having a birth. Once Claudia came along, he was more then grateful she was a part of this journey with us and couldnt imagine not having her there. She was there for us in more ways then we knew we needed. My pregnancy and birth experience is something I will always remember and having Claudia with me through all of it is also something I will never forget and always appreciate.  She is an absolutely amazing person and on a professional note, damn good at what she does. I feel like my birth went exactly how I wanted it to go with Claudia's guidance. I plan to have Claudia with me always if Im blessed with future pregnancies! The things I have written really does not do her justice, she's a miracle worker and is simply the best! Side Note: I found Claudia through reviews and word of mouth on social media. She had glowing reviews and I can see why. I hope that my review is just one of many that can help another mother see how amazing she is at what she does and how she is such an asset for your family during that magical time." Deanna 2023
"Having Claudia as my doula was the best decision for my birth, I could not have done it without her! Before my birth we had multiple meetings where she asked detailed questions for my birth plan and taught us exercises to do while pregnant. She also was a lot of help when I had pains and she would tell me what to do to get relief.
During labor she was able to help me move my baby into the right position for birth and get things moving along. She also recommended I go to the chiropractor during early labor. Claudia provided me with peppermint oil to sniff because I got super nauseous during contractions and it was extremely helpful! She also stayed on top of what my wishes were at the hospital. She was great during delivery and took pictures of us that I'm so so glad we have now.  At our postpartum visit we talked the birth through and decided what we would "change" for next time, but overall it was a dream and I would do it all over again with her support!!!  Definitely hire her!!!" Christine 2023
"Once in a while, you'll meet someone who is exceptional at what they do and that's definitely the case for Claudia! When I was looking for a doula, I read raving review after review about Claudia. I knew I wanted her to support me with the birth of my second child before I had even met her.  Working with Claudia was the best gift I could give myself and definitely my husband when expecting baby number 2. Claudia truly listens, understands how the pregnant woman's mind works, and shows up exactly the way you need her to. Claudia is an absolute rockstar during labor and enables you to do things you never thought you'd be able to but I think it's her empathy and truly caring nature that leaves a mark on everyone she works with. Every woman deserves to be supported and cared for during birth. If you can have Claudia, you're just very, very lucky. " Lynn 2022
"After having a high risk, traumatic birth, I knew I wanted a doula for my second pregnancy.  We were so fortunate to find Claudia, who was both experienced and extremely understanding of our complicated, nuanced feelings.  During labor, she was our calm and our comfort and I honestly couldn't imagine delivering without Claudia.  Everyone should have a doula like Claudia by their side, I can't recommend her enough!" Michelle 2022
"We couldn't be more grateful and happy to have found and worked with Claudia for the birth of our first child. From the moment we first met virtually and she shared her unique background caring for children, I knew she would be a perfect fit for us. Her calming nature paired with her skilled expertise gave us confidence with every prep meeting. She shared helpful resources and counseled us on how to create a birth plan that suited our needs. She was in close contact in the weeks leading up to our delivery, consistently checking in on me and sharing in the excitement as we neared our delivery date. When I was induced, Claudia made a special early trip to the hospital before I was in active labor to check in and deliver a TENS machine. When it was time for her to return, she was right by my side offering physical and emotional support — even crafting a very personal meditation describing my favorite vacation spot in such romantic detail that it helped me escape the delivery room, relieve some of the immense pain of unmedicated contractions to allow me to go further along before getting my epidural. She was an advocate for me when the doctor advised it was time to push, and she encouraged me to continue to labor down and get the baby as low as we could to reduce the push time. After a successful delivery (and only 27 mins of pushing!) Claudia embraced me and told me how proud she was of me. I could tell she was genuine and really meant it. I can't put to words the bond I felt with Claudia and the gratitude I have for her, other than if you choose her as your doula, you are the luckiest woman in the world and she will be the best support for you – I give her my highest recommendation. I feel like she will forever be a part of my "family", being such an important support person for me during the most beautiful, most special, most physically enduring moment of my life. We will absolutely use her again in the future as our family continues to grow."  Dana 2022
"You absolutely cannot find a better doula out there than Claudia! She was our doula for both my son (2 yr old) and now my daughter (newborn). I can't picture ever giving birth without her! She is unbelivably knowledgeable, supportive, caring, calming, and genuine. When we first met her while pregnant with my son, my husband and I knew 5 mins in that we were sold, but we had no idea how her support and presence both before and during my labors would lead her to be such a speacial person in our hearts! She helped prepare both of us, supported my goal of natural birth and connected us with an amazing IBCLC to help ensure I'd also meet my breastfeeding goals. My labor turned out to be quite the 38 hr long experience! I had intense, close together contractions for the final 10hrs. Because of Claudia I had a natural childbirth using nitrous oxide and only pushed for 25 mins. I have no doubt that without her I would have ended up with an epidural, if not a c-section and would have been left with so many regrets. 
From my first birth, Claudia and I learned a lot about my very imbalanced body due to knee issues and it's impact on my labors. She supported me with tailored information, resources and exersizes prior to the birth of my daughter to help ensure an easier birth this time around. When my labor started out very similar to my son's labor, Claudia encouraged me to go to the chiropractor (while in labor!) to get adjusted. She even met me at the office and drove me home when our heat broke and my husband had to be home for the repair man. After adjustments, Claudia worked with me to do some personalized positioning and my daughter was born naturally only 3 hrs later with 1.5mins of pushing!
Claudia was born to be a doula! She knows her field inside and out, but is also a natural- the best of both worlds! She will bring peace, strength, confidence, knowledge and love into the entire experience for you, just like she has for me- twice! " Lexie 2022
"Claudia is an amazing doula. From the moment I met her, I could tell she was knowledgeable, confident and kind. She supported me through every aspect of my pregnancy and birth. She provided me with education, additional resources and always around for any emotional support. When birthing time came, she  was the one told me that I was having real contractions despite the fact that nurses over the phone told me I was only having Braxton contractions and she was the one called and arranged hospital staff beforehand. She eased my fears with her presence and I experienced the best possible birth with her. She supported my decisions, she guide me in manyways and holding her hands gave me the courage to deliver my son in a most positive way. I wish I could explain every single detail that she did for me here but overall it was more than an amazing support. She took memorable pictures of us and even shared tears of happiness when my husband and I were about to welcome our beloved son. I admire Claudia for her optimism and knowledge. She was just what we needed throughout this amazing journey. We are so grateful to Claudia for all that she did for us during my pregnancy, labor and delivery and postpartum as well! I would recommend her one thousand times over! " Sezi 2021
"I can't begin to say enough about Claudia. She was recommended by my OBGYN, and as soon as I found out I was pregnant, I made sure to book her! It was my first child, so I wasn't sure what I was really in for. I did a lot of reasearch, but no matter how much research you do it will never truly prepare you for what you go through during labor. She was my saving grace. I went through a lot during my labor with a few complications. Although my husband was also by my side, she helped guide and direct us the whole way. She is gentle, kind, caring, thoughtful, and beyond helpful. I couldn't have went through my tough labor without her, and I am so thankful that she was by my side!" Tina 2021
"Claudia has been our rock and support through two pregancies and deliveries. We are forever indebted to her precious hands, heart, and expertise. With our families over a thousand miles away, we have had to rely on the goodness of people we have met here in New Jersey to carry us through challenging times and new, lifechanging experiences. Claudia has been a comforting, encouraging, knowledgable beacon of hope and love for us, our sons, and many friends.  Claudia is the first person we call when a friend announces they are expecting. Our wish for every mother and couple is to have the same generous, outstanding support we have found in Claudia. While it would have been no fault of hers had our birthplans not worked out as we hoped, we are so thrilled to have been able to manage the intense process of bringing children into this world with the grace and love we have found in Claudia. We can't say enough good things!" Alicia B. 2021
"We had such a great experience with Claudia for the birth of our first son that we knew she would be key to the smooth birth of our second. Claudia is a super knowledgeable, extremely supportive doula. Before the birth, she helped us prepare a birth plan. When that plan went out the window due to a precipitous labor, she was a calm, level head who talked me through contractions, recognized the urgency of getting to the hospital, and took control of the situation. Frankly, she's the main reason we made it to the hospital for delivery. I cannot thank her enough for her quick thinking. After our baby's arrival, Claudia came over to make sure we were doing well. Having a baby is enormously stressful in normal times, but even more so in a pandemic where social support is limited. Claudia was a major source of support for me, especially when times got tough. I cannot recommend her services enough. She's a game changer." Meghan O.  2021
"I can't really put into words how much we valued Claudia being a part of our pregnancy and birthing experience. This was my second child/birth and this time I was trying for a VBAC after a pretty difficult first birthing experience which resulted in a C-section. Needless to say, I was a bit terrified going into this pregnancy and labor as a result of my first. Claudia provided great guidance, support, and resources during pregnancy, and then she was such a calming support during labor. Once labor began, I felt safe as soon as I saw Claudia and it was her support that allowed me to labor freely and calmly, ultimately ending in my successful VBAC. My husband also felt that Claudia gave him confidence in his role on the birthing team. She provided tips and made him feel useful rather than helpless as I was laboring. Overall, I don't think we could have done it without Claudia and we are both truly grateful to have had her be a part of our pregnancy and birthing experience."  Jen & Kevin 2021
"I would recommend Claudia without reservation to anyone looking for doula services.  She has a quiet strength and gentle kindess that make her an incredible support throughout the birthing process.  I honestly don't think I would have had a VBAC without Claudia's support, encouragement and guidance.  She's an excellent listener and completely non-judgemental.  She honored my history of loss and made me feel seen.  There is no doubt that she is called to this work and I will always be deeply grateful that she was by my side for my daughter's birth."  Skye 2021
"Claudia is an incredible woman and doula. I am so grateful that I was able to share my birth experience with her. She is so genuinely caring and emanates a calm and kind energy. She is very intuitive and will go in the direction you need in the moment – need to be pumped up to get through the last phase of labor? Claudia is there with you. Need a truly calming voice to get into your zen zone? Perfect, Claudia's got it. I can see that she wants to help you have the labor you want to have, not push her ideal birth on you, she is not judgemental at all. That said, she will also help you to know about the options available to you (if you want to hear them) so that you have time to consider the options and plan before your birth – she is extremely knowledgable in a variety of strategies for approaching labor. 
During my labor Claudia had great intuition for what I needed in the moment (even things I didn't know I needed!) and also did a great job of partnering with my husband on providing support. She stayed with us and provided encouragement for my breastfeeding journey once our baby was born. In the postpartum period our family had a bit of a rollercoaster, and Claudia was a great source of comfort during that time. I really felt that she truly cared for us and what we were going through and it was comforting to talk with her. 
I look back on how magical my birth experience was, and I know that a huge part of how wonderfully everything went was due to Claudia's support. Unexpected things happen during labor, including mine, but how I look back on those challenges is remembering how supported and loved I felt going through it. I highly recommend Claudia as a doula. I plan to engage her for any future pregnancies! " Amy 2021
"Claudia was such a blessing during my pregnancy, labor and post partum. Originally I wanted a doula due to Covid restrictions in the hospital which turned out to be a positive experience as Claudia became like family. I chose her as my doula because of her long list of positive testimonials that were very moving to read especially as a nervous first time mom. From our first visit she made us feel very comfortable. She was available during and after my pregnancy and genuinely wanted to be there for us as a guiding voice. We did not partake in any labor classes because I feel she prepared us so well and recommended many resources. Because of her support I was able to labor at home for majority of my labor. Upon arriving at the hospital it was so reassuring to see a familiar face who know about me and my labor plan. Thanks to Claudia I was able to have the labor I didn't even know I wanted – natural and unmedicated. Although I felt as ready as I could be and my husband was an amazing support- Claudia knew which interventions and non pharmacological pain measures to bring out and when in order to keep labor moving along. It was such an empowering experience and I can't recommend her enough. She is amazing and I hope you consider her beautiful soul to be a part of your most important day." Agata 2021
"Claudia is one of the most kind and patient people we know. She helped us prepare for the birth of our first child with an open-heart and open-mind. She never pushed us towards any one type of birth but instead took the time to explain all the different options available and supported us as we figured out what we wanted. With her guidance, we felt prepared and ready for the birth and were able to focus on the positive, exciting aspect of meeting our baby!
She was with us as I labored at home and was very good at knowing when to go into the hospital. When we arrived at the hospital she was professional and warm to every nurse, doctor and staff member she met. She advocated for me to get the birth I wanted and held my hand and encouraged me when things got hard. My partner leaned on her for her expertise and encouragement too. 
We 100% would not have had the birth we had without her. She was great to have when things were easy and manageable and absolutely essential when things got more difficult. We are so grateful to have had her as our doula. She truly loves her work. With her prepartum, labor and delivery, and postpartum support, our new family of 3 could not have gotten off to a better start." Yssa & Leo 2021
"There are no words to describe how much Claudia was a lifesaver during our birth process.  Going through carrying, labor, and delivery with Claudia taught me many more life lessons than just how to give birth.  Claudia helped us work through issues that could have been potential blocks in the child birthing process; Claudia helped us communicate better with each other, which was incredibly important as first-time parents; and Claudia helped me learn to clear my mind and let go – something that I am still grateful to Claudia for today.
Everything from the first visit to the post-partum visit is done professionally, and in a caring way.  To this day, (18 months later) I have never met anyone who meets all of Claudia's qualities.  I hope to be as caring, patient, and understanding as Claudia is one day. THANK YOU, CLAUDIA! "   Daphné & Shamil posted 5/2020
"Claudia was the biggest factor in helping me to have the type of birth I was hoping for. Claudia's soothing manner and wisdom gave me the confidence to labor at home and cope during a long early phase of labor. She also provided relief for my husband who had been caring for me nonstop overnight, and freed him from the anxiety of having to fully understand and properly assess the progress of my labor. It was hard for us to apply the knowledge we'd gained from childbirth class to our own experience since births can vary so widely. Claudia provided the best voice of reason and emotional support for us at that time. Then at the hospital she helped us communicate effectively with the care providers and provided another comforting, familiar face to help me through the last of my contractions and pushing. I was truly grateful. Afterwards I felt that she, more than any other decisions I made, helped me to have a healthy labor and childbirth." Liz B.
"Dear Claudia, I wanted to tell you what a pleasure it has been to know you. You are a very kind woman that loves what she does and it Shows! Thank you so very much for all the genuine care and support you gave us during our pregnancy, during our labor and even after baby was born. I remember being so shocked, comforted and grateful that you stayed with us for a while even after she was born. As you walked us to the elevator I remember thinking, "Wow, this is so nice of her to still be here … she must be exhausted. And I appreciated all of your texts and calls in the days and weeks that followed. Truly unexpected and truly appreciated…." With love and sincerity  M.
"Claudia was the best money we spent leading up to our first baby's birth. I had planned to give birth at a birthing center, but when that was not possible anymore I was so glad to have her by my side at the hospital. My husband and I were not mentally prepared for a hospital birth, Claudia was a source of comfort and support throughout labor. She listened to what I wanted and advocated on my behalf. She is very professional and all of the doctors and nurses were receptive to her. She made me feel like I was doing everything in my power to move my labor along. When we ended up having a Cesarean birth, she comforted me that I was making the best decision for my baby. I had a rough time postpartum and her visit and follow up text/calls meant so much, especially with processing the entire birth. I would not hesitate to have Claudia as my doula again in the future." Krista & Bill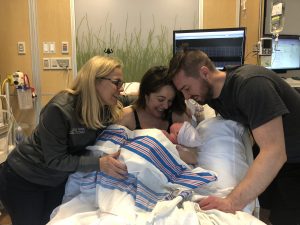 Another successful VBAC, testimonial soon to follow!
"Dear fellow Mom,  expecting a child (whether it's your first, second or sixth) is a difficult time no matter what. We go through 9 months of pregnancy that terminates in something special and often scary. It's called labor. 
I cannot stress enough how important it is to have support (emotional, physical, mental, social) during labor, and doulas provide that support. Having said that, please remember that not all doulas are created equal. Claudia is an incredible example of what goes into being a doula. She works with tremendous dedication, empathy, self-awareness, humility, and creativity. Not everyone can be (or should be) a doula. Yet Claudia personifies what a great doula is.
Claudia listens. She advocates for you. She supports you. No job is too small or too big. In all honesty, if you need help using the bathroom during labor-no problem. Need help breathing through pain? Claudia's got strategies for you that were created in collaboration with you. She encourages yet never pushes. Claudia's presence, her knowledge of human nature and compassion will make your labor enjoyable. My second child was born on January 14th, 2020 and Claudia was with me from the beginning till the end. Although I did experience pain, my labor was quick and manageable. With Claudia's labor exercises, my labor progressed so well that I did not have time to get an Epidural and gave birth naturally. I was in the "zone" and Claudia helped me get there.
Hiring a doula is an investment in yourself: into your mental and physical wellbeing. There are ways to afford a doula. Buy less stuff for baby. Buy less stuff for the nursery. Think about it: how much stuff do newborns really need? Instead of adding baby clothes to your registry, ask friends and family to contribute to "mommy fund" then use that money to hire Claudia. I assure you – your body and your mind will thank you. Warmly, Daria , posted 2/5/2020
"I had the best experience with Claudia. I am so grateful and so lucky to have her as my doula. She was very supportive and helpful before and during my home birth. I couldn't have the perfect birth without her. Also my older girl who is 2 years old loves her so much. Claudia played with her a couple of times, even now, 4 months after my birth, my older girl still mentions her almost every other day, she always says she miss Claudia nai nai (which means granny Claudia in Chinese) and wants to play with her. This morning when I was readying her story she told me Claudia nai nai has read her that book. Claudia gave me so much more time before birth, and stayed longer after we were all settled after birth, even during postpartum, she came to take care of me as a gift because I was having some difficult time with family and was so depressed. She treats me like family, I trust her, love her, and miss her so much." You,  posted 2/3/2020
"It has been a wonderful experience having Claudia as my doula. Our prenatal visits were comfortable and very informative. She also provided childbirth classes that helped prepare me for the natural birth i desired. She was always there to answer questions and truly help educate my husband and i as we prepared for our son's birth.
Claudia's presence during labor was reassuring, comforting, and really helped me believe i could deliver my son. Throughout my 24 hr labor, she knew exactly what to do at each stage to keep my body progressing. She guided me in laboring in assorted positions that helped my baby to continue to engage and descend. She also was so welcoming to my mom and sister who attended my son's birth and made the whole family feel part of the experience.
After delivery, it was so comforting having Claudia present. It was such a blessing to have someone show kindness and care during those few hours postpartum while i was feeling vulnerable and uncomfortable.
Having Claudia part of my son's birth contributed to having a wonderful birth experience that i am so thankful for." Ashley B. 1/20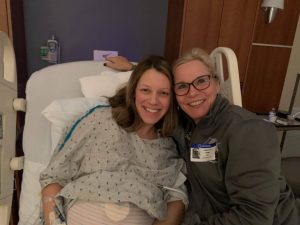 "To an inspiring, kind soul, friend and best doula ever! We are eternally grateful to have met you and for all the warmth, strength and light you have so gracefully shined into our lives
"  <3 Love, Liz, Aneesh, Ivo and Adrie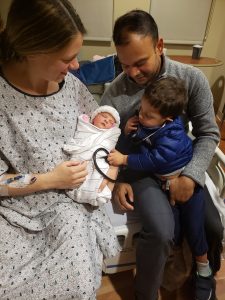 "Claudia was probably the most important factor of all our birth decisions. My last pregnancy ended with an emergency C-section, and even after 6 years, I still held the belief that had I more personalized support and an advocate during my birth, I could have had a much better outcome. So from the moment I found out I was pregnant, I was dead-set on having a natural VBAC with midwives and a doula. I did a search for local doulas and chose Claudia directly from her website because of her kind smile, extensive experience, and long list of happy clients. 
Claudia visited us several times during my pregnancy to talk about my birth plan, what to expect during labor, and any fears or apprehensions I had. She also went over several Spinning Babies and Miles exercises we could do to help get baby in a good position. It was wonderful to discuss my plans for a natural VBAC with someone and not be met with judgment or fear mongering. 
From the moment I heard her walk into my room on the day of my birth, and say "You're doing great", I felt so much more calm and in control. I was able to put my fears aside and just focus on her voice through contractions. I would not have survived the car ride without her next to me, massaging my back, saying positive affirmations, and even directing my husband as to where to drive at the hospital! She helped me stay focused as we walked to the delivery room, and as I labored more she helped move me into better positions, kept massaging my back and shoulders, and kept reassuring me that I could do this. After less than an hour at the hospital, I pushed baby Wesley out without any medications, and felt immediate relief and pride that I gave birth my way. Claudia helped me get started with breastfeeding and stayed to help us get comfortable in our recovery room. Claudia was invaluable during the whole process. While my husband had confidence in me and was also very supportive, it was so important to have someone there who really knew the birthing process and had years of experience in birth support, as well as a familiarity and camaraderie with my midwives. Claudia was worth every penny and I'm so thankful to have found her!" Jo Ellen 11/2019
"We found Claudia through research and the recommendations of several of our friends. Alicia specifically wanted the support of someone with a background in counseling or therapy, as most of her fears with the labor were associated with a challenging life as a child. We couldn't be happier with our experience – Claudia went above and beyond our expectations. Her truly loving demeanor and ability to distill knowledge in a meaningful and supportive way made all the difference. While every labor is different, Alicia was able to achieve the birth experience she desired and received the invaluable blessing of facing and using all of the inner mental, emotional, and physical strength it takes to deliver a child. Because of Claudia, Colton was able to focus solely on being a comforting voice without the stress of guiding Alicia through a process that was equally daunting for both of us. Claudia was more family than our own biological relatives to us during the preparation, labor, and delivery of our child. We can't say enough good things about her, and look forward to reaching out to her again when our second child is on the way. " Alicia & Colton      Posted 9/13/2019
"Claudia is truly an angel sent from the heavens. She offers a peaceful, calming, and serene presence and was with us each step of the way leading up to the delivery, during delivery and post delivery. She is extremely knowledgeable, professional, and a pure joy to be around. She made me not only feel extremely comfortable and cared for but also just a loving and wonderful soul. I honestly can't imagine giving birth to my daugther without her encouragement, support, and her advocating for my needs. I highly recommend and will be using her if we decide to have another. " Erin B. Posted 7/8/2019
"My wife and I hired Claudia as a postpartum doula and we are so grateful for everything she did for us and our son. We are first time parents and not only did she take very good care of our baby but she also helped us build our confidence as new parents. She is kind, warm hearted, professional and a very good listener.  She made sure we felt at ease, helped us learn the skills we'd need to take care of our baby, and also allowed us to get some much needed sleep when she stayed overnights. She is truly a gem and we would recommend her to anyone looking for a doula."  Raj and Sona     posted 5/29/2019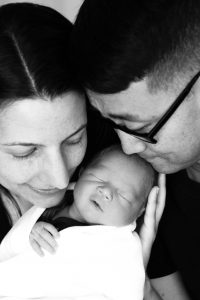 "Our family is so grateful to have connected with Claudia through DoulaMatch.  She is an exceptionally kind, caring person and a wonderful doula! At our pre-birth meetings, Claudia was so patient in answering all my questions. She took as much time as I needed, and she had great recommendations for daily exercises from her training in Spinning Babies as well as recipes and such. She helped me understand what I could expect during labor as well as processes at the hospital I would be delivering at, and she even knew some of the different OBs and midwives there.  My husband and I had prepared for childbirth taking HypnoBirthing classes, and we were pleased that Claudia also had taken HypnoBirthing classes herself and was able to help us prepare and use what we had learned.
I developed pre-eclampsia at 37 weeks and was sent right to the hospital to be induced. I phoned Claudia and she came to the hospital that evening and was there with us each of the three days until my son was born. She knew what to say to encourage me when I was mentally weary from the constant monitoring and medications.  She even jumped right in when the nurses weren't around (and even when they were!) helping me with trips to the bathroom and such.  When labor finally started, she was a HUGE help for me to stay calm and focused throughout my unmediated labor and help me manage the pain with positions, visualizations and her knowledgeable and comforting words.
After our son was born, her follow up postpartum visit helped me get comfortable with breastfeeding, using my breast pump, and caring for our newborn.  She was able to connect me with a great lactation consultant too. Later when I was re-admitted to the hospital due to continued high blood pressure, Claudia visited me and lifted my spirits. Her caring heart for people shines through all the time. Thank you so much, Claudia!"  Robin   Posted 5/28/2019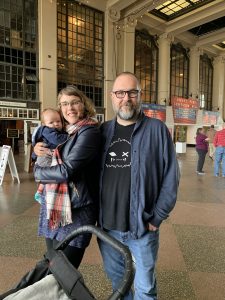 "Claudia is a tremendous person. Even in our first meeting, we were very comfortable with her and knew she would be able to help us have the empowering and informed birth experience we hoped for. She is sooooo extremely generous. Due to how a number of unusual circumstances aligned, we had a long labor that stretched into a third day and ended with an unplanned c-section. Claudia was there every day, only going home for a few hours to sleep the first night as we all tried to get some rest. She had me doing positions to encourage labor and helped me through it all. When she came back to our apartment the second day, she walked right over to me and gave me a hug that I didn't know I needed, but it was an amazing uplift to keep going.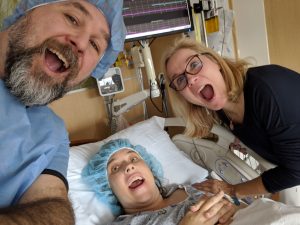 In the hospital she was a tremendous comfort to my husband as I went to the OR. Then she waited until our son was born and nursing before she left. A few weeks later she visited us at home with additional support and kindness. It's very difficult to write this testimonial— how do you put into words how wonderful it was to have Claudia's support? I'm not sure this writing even begins to express our gratitude to Claudia." With much love, Corey, Dickie, and Jonas     Posted 5/24/2019
"I cannot believe that the powers that be let two randos, who know nothing about birth and children like me and my husband, have a baby. That is why we are eternally grateful for Claudia Parris, the doula of my dreams. Claudia is the best. She really takes the time to get to know her clients, establish trust, and understand their preferences to accommodate needs for this life-changing event. Additionally, Claudia is extremely knowledgeable about the birth process and all things newborns. During meetings before birth, she explains labor and newborn care with great patience. And during actual labor, she is just so useful and helpful in addition to being a calming presence during a totally chaotic and overwhelming experience. She follows up afterwards as well and makes sure that new moms are getting the care they need. I do not know what we would have done without Claudia. She was a game changer. She is so kind, easy to get along with, and really cares about her clients. She frankly went above and beyond any of our expectations and even picked up diapers for us on a grocery run she was taking! There are not enough superlatives to describe our experience with her. I cannot recommend her enough."  Meghan O. Posted 4/18/2019
"Words cannot describe Claudia's warm, caring, positive nature. Claudia is strongly maternal and the type of woman you know you can trust immediately. She worked with us as we prepared for birth and spent time getting to know us. Her knowledge and experience helped ease my fears as a first time mom. She checked in with me regularly in the weeks leading up to the birth of my son, calming the storm of emotions that comes with passing one's due date. She always seemed to know exactly what to say. Claudia is calm and supportive. She helped me to achieve a non-medicated birth and was flexible when surprises happened. Claudia is incredibly perceptive. During labor, I was not able to speak much, yet she always knew exactly what I needed. She quietly helped direct my husband in how to support me during labor. Some of my strongest memories of my labor are times when Claudia was right by my side – creating a guided imagery, recognizing when I was starting to panic, offering hydration when it was the last thing on my mind, even pulling a little fan out of her bag as I started sweating! Claudia's love and selflessness are palpable when you are in her presence. I am so thankful for her guidance and support in making my birth experience a positive one. Every woman deserves a doula and Claudia is the very best." Kristen L. Posted 4/8/2019
"Claudia was invaluable to our family as we prepared for our daughter's birth and during labor and delivery. She truly took the time to get to know me and my fears, hopes, and needs. I was trying for my second VBAC and really wanted someone who would compassionately, intelligently, and enthusiastically support my hopes for delivery. As the days ticked by up to and then past my due date, Claudia provided regular encouragement, advice, and prayers. When I finally went in to labor, she supported me through contractions and calmed me when the baby started experiencing distress.  When my doctors decided a quick C-section was important for my daughter's safety, she stayed with me and encouraged me right up until I left for the operating room. She then stayed with me for several hours during recovery to help me cope with the medication side effects, nurse and bond with my daughter, and process my experience. I truly cannot imagine what I would have done without her! She became a precious friend and I could not recommend her more highly!!" Karen K. 2/19/19
"Childbirth and life right after it is a difficult and vulnerable (though also beautiful) period, and I was lucky enough (and blessed enough) to find Claudia for support during this period. Claudia was my postpartum doula but also was a source of guidance during late pregnancy as well. Her warmth is tangible and her knowledge and intuition about taking care of newborns is apparent. Her encouragement helped to lessen my self-doubt, and she is very perceptive, catching on to my worries and comprehending my questions. I always felt like she was on the same wavelength as me. It is clear that she sees childbirth and the welcoming of new life as more than just a phyiscal, medical phenomenon and more than just a chore and obstacle to get through. She sees the beauty in these things and is also helpful on a practical level–teaching me simple but important things like how to hold the baby to relieve stomach pain and how to breastfeed in a way that's comfortable to mom and baby. I am so glad that Claudia was my doula–she helped to complete and make more memorable and joyful my experience of becoming a mother. " Nura H.    Posted 2/9/2019
"Claudia is absolutely wonderful at what she does! Claudia is encouraging and beyond helpful. She is very perceptive of the mood throughout labor and responds to that beautifully with the appropriate encouragement or exercises…whatever is most needed! Claudia is a very thoughtful and caring doula, and I greatly enjoyed my experience with her. " Ashley H.     Posted 2/8/201
"Claudia was my doula for my second born child. I didn't have a doula for my first birth, but I wish I had Claudia with me then! I went into rapid labor around 5am and she was available right away over the phone to help coach me through contractions, reminding me to breathe and use the visualization of my favorite place. This helped me get through the 30 min drive to the hospital since the contractions were so close together. My husband was able to focus on driving while I labored in the car. Claudia was at the entrance of the hospital when we arrived and continued to coach me and remind me to drink fluids through the rest of the labor. My labor progressed well and with her encouragement and providing counter-pressure, I felt very supported. I delivered around 8:30am with my nurse midwife present and Claudia continued to provide support for me and my husband as I snuggled with my new baby boy. She took fantastic photos of my labor and the baby and I seconds after delivery so we could enjoy the moment. Thanks so much Claudia! I would definitely recommend Claudia as a doula!" Arielle B. 1/26/19
"Claudia was such a pleasure to work with. She took me on under super short notice with no problem. She made my stress levels so much lower leading up to, during labor and delivery. I would recommend her 100x over. It was like having another family member in the room. Thank you so much for being a part of Austin's birth. ♥️♥️" Rachel R. Dec 2018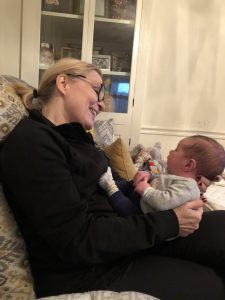 "What a wonderful birth experience we had with Claudia as doula.  We met with Claudia on numerous occasions in the months leading up to the birth.  She has a calm and soothing way about her and made an instant connection with our 3 year old son.  On the day of the home birth, Claudia was an immediately calming influence as I progressed into active labor very quickly.  With great care and affection, Claudia assisted with helping keep me focused on my breathing, in a positive mental state and trying various positions to navigate through contractions.  Claudia was great! Should we choose to have another child, I would absolutely want Claudia as my doula again and recommend her (without any reservations) to expecting moms considering a doula. Thanks Claudia!"    Kristina  Sept. 2018
"Claudia was everything I imagined and more. She was with me for nearly 30 hours and was amazing, caring, knowledgeable, intelligent and even funny. She enhanced my birthing and labor experience and I will never forget her. We loved her!" Andrea N. P. August 2018
"Claudia is wonderful! She was our postpartum doula for almost 4 months. Not only was she helpful to us, she made her way into our hearts and we consider her family. We will miss her very much. All new mamas out there who are lucky enough to have Claudia's help won't be disappointed. She is warm, loving, patient, knowledgeable and so good with both newborns and toddlers, as well as the mammas and the papas." Jillian W. Posted 8/27/2018
"My family and I had the pleasure of working with Claudia when we were looking for a doula for my first pregnancy. Claudia's experience and calm, caring friendship helped us prepare for birth and made the experience a hundred times smoother. Once my daughter was born, we again needed some help with a couple of overnights; my daughter was on a particular feeding schedule and we needed someone we could blindly trust to feed her the necessary quantities at the right times. We again leaned on Claudia for support, and she took care of the baby as if she were her own. My daughter slept peacefully and didn't even notice that it wasn't one of her parents feeding her. Claudia is an amazing doula and we feel forever indebted for all of her help and guidance!" Priscilla A.  July 2018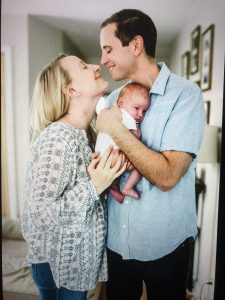 "The short version: Having Claudia Parris as our doula was one of the smartest decisions we made surrounding our daughter's birth. My husband and I would both HIGHLY recommend working with her. You won't regret it!
The long version: I very much wanted to have a non-medicated, natural birth and heard from friends that working with a doula could help make that more feasible. They were right. If it wasn't for Claudia and her pre-labor guidance, deep knowledge of pain management techniques, and incredibly soothing presence, I know I would have needed an epidural to make it through my 22 hour labor. And Claudia was not only a huge help to me on our big day, she also helped my husband a great deal by showing him how to help relieve my pain when he could and help him cope when it was hard to see me in such distress. I felt so supported by both of them the whole time – they really became a dream team!
Claudia also has a great instinct for how to best support both mother and father throughout the day. We'd joke sometimes, cry others, but no matter what I knew she always had my (and baby's) best interests at heart. If I would've needed the epidural, I know she would've fully supported my decision (we spoke about that before working togeher), as she cares most about making sure mom and baby are able to properly bond at the end of the day, however you get there. And she took notes throughout the day so she could write up a beautiful birth story for us and baby to have. It's such a special document. If I concieve again, Claudia will be one of the first people I call. She's our doula (and dear friend) for life!" Mackenzie B.    Posted 6/3/2018
"I always wanted to have a natural birth as I believe that our bodies are meant to endure this process. Unfortunately my first pregnancy ended up in a C-section due to breech presentation. This time around for my second pregnancy, I wanted to have a natural VBAC. I distinctly remember our first meeting with Claudia in the coffee shop of Target. She came out as a very warm and soft person who really wants to understand you so that she can help you in all possible way. After our meeting, both me and my husband felt that she will be a good doula in our VBAC journey. My labor was a tough labor lasting for 3 nights. For the first 2 nights I had prodormal labor where contractions were intense but only 10-15 minutes apart. So clearly hospital didnt admit me. I called Claudia at 1am in the morning unable to cope up with the contractions and she came to my home right away without any hesitance. She helped me so much with different positions and helping me with pain management. I was unable to cope up with the pain but claudia's presence made it possible. She constantly encouraged me and supported me through out. Due to her help, I progressed in my contractions and finally was admitted to the hospital at 5 cm. Even in the hospital, she constantly encouraged me and supported my husband. I had a really long labor due to the positioning of my child. There were times when I was giving up, but claudia was constantly there for me and kept me going. Finally when I delivered my daughter through a successful drug free VBAC, I was in tears and my heart was full of gratitude for people around me especially Claudia for helping me in this journey throughout. Both me and and my husband felt that having her as our doula was the best decision we made in our VBAC journey. Claudia gave such personalized care to me that during my 6 week postpartum checkup even my midwife mentioned that how wonderful she was as a doula. I highly recommend her as a doula. She is wonderful." Aparna R.  Posted 5/24/2018
"My husband and I want to thank from the bottoms of our hearts to Claudia. She is the DOULA you want to have during your labor and delivery. I wouldn't have done it without her, or like she said my birth would've been different. I truly believe so.
We decided to hire doula pretty late, I was 36 weeks pregnant. Our families live abroad and we realized that we needed extra support. Claudia was the first one on my list, then I called her I knew right away that she is the one. She is warm, calm, carring, knowledgible person with beautiful accent and good sense of humor which is super important for us. She agreed to help us, even though she lived an hour away. We met once after our conversation over the phone to go through my birth plan and all the details, whenever I had any questions or concerns I called her or texted she always helped me. Then the big day came, I called Claudia, she came over to our house, showed me great poses during contractions to ease the pain, gave me back massages, used her Mexican towel on my belly, instructed my husband what to do, we actually were having a good time. Finally my water broke and she said it's time to go to the hospital. Then we got to the hospital it's only 10 mins away, doctor checked me and asked how many kids I had. I said this is my first one, they were in shock – I was 9cm dilated!!!!! I'm so happy we stayed home for so long, without Claudia being there with us we probably would be at the hospital way earlier. She made me feel very comfortable and just knew what to do, when and what to say. And then time for pushing came, she was there for me. She hugged me, hold my hand, talked nice things in my ear that I wouldn't think about the pain. It was like having my mom next to me. She stayed with us after the baby was born, wanted to make sure we were OK. She is the best! Very professional and loves what she does. Thank you Claudia! Audrone, Shay and baby Emilija Posted 4/21/2018
"Writing words here can not do justice to our experience with Claudia. She joined our family the day we returned from a 5 day stay at the hospital with our 3 week old newborn who contracted RSV and struggled to breathe properly— while we were somewhat uneasy with someone we didn't know watching our son at such a critical time, we were fully exhausted from many sleepless nights and knew we needed the help. The instant she walked in our door, she brought such a sense of calm that eased our minds during one of the scariest moments in our lives. That sense of calm carried over into each additional visit. She would do the overnight shift to allow us the occasional break, as this was our third child! It was our most anticipated night or nights each week! Moreover, she truly cared about our son, which was always evident in her dealings with him. 
Her open and honest communication allowed for easy scheduling, helpful tips and most importantly, allowed us to rest comfortably. We highly recommend using her for any of your doula needs- and certainly will be should we decide to go for number 4!" Melissa L. Posted Doulamatch 4/2/2018
"Claudia, you are incredible at what you do – it is definitely your calling. We couldn't sing your praises any more than we do…" Melissa L.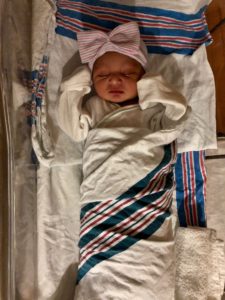 "Claudia came to us highly recommended from our OB and as soon as we met her, we knew that we didn't have to interview other doulas. She helped us with each stage of the pregnancy: assisting us in our preparations for birth, being a calming and reassuring presence when I went into labor, and supporting us after birth as well.
Claudia strikes the right balance between being professional and a friend. She was extremely informative and helped us understand what to expect at different phases of the pregnancy journey. She creates a very calm and approachable environment which allowed us to develop a well informed birth plan. From a husbands perspective, she helped alleviate the pressure of what to do during birth which allowed my husband to focus on my needs. Through this journey, Claudia went from being a doula to part of our family.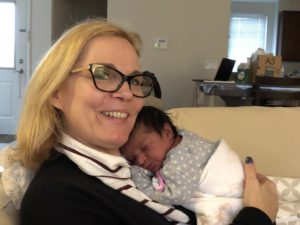 I'll always remember how well she was able to alleviate my back pain during labor, and how she knew exactly what to say when my doubts arose. She took the time to really get to know me and my husband.  She's dedicated, reliable, experienced, and loves what she does. It really doesn't get better than this!" Krishna & Rupal
"As a midwife, I want all of my clients to have the birth they dream of. Claudia was a strong yet gentle force, providing support and encouragement and holding space so beautifully for a laboring mama who did finally get the home, water-birth she dreamed of!  Claudia quickly became a seamless member of the birth team and I hope to work with her in the future.  I would wholeheartedly recommend Claudia to anyone in search of a doula."                 Liz Clarkson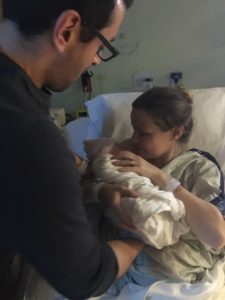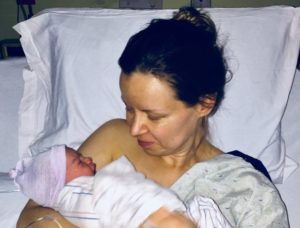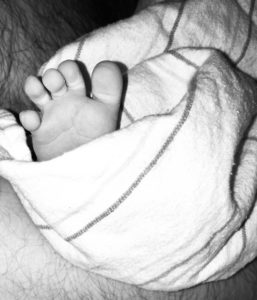 Dear Claudia, where do I begin? How about with a word of thanks from me and my husband? As we reflected on a birth of our daughter Lyra this past Tuesday (November 28th), we have agreed that we could not have had such a beautiful birth experience without you.
As you know, I always thought that my pain threshold was not very high (perhaps I need to give myself more credit). I prepared myself for the worst: a never-ending journey filled with unbearable pain, followed by an emergency c-section. What I wanted, however, was a vaginal delivery with short labor and somewhat manageable pain. That is exactly what I got and I thank you for it.
When I think back to that evening, I realize that your presence and knowledge supported me as I coped with pain. By using various techniques and helping me establish the necessary mind-body connection, the pain was manageable and the labor was short. Certainly, the contractions were painful but, again, the key word here is manageable.
As I further reflect on my birth experience, I am grateful for the little things you did to help me: a touch of lavender oil, a wet towel, making me sip on water, even counting to 10 during the pushing stage. Visualizations, relaxing into pain as opposed to constricting, reminding me to take deep breaths as opposed to holding my breath-all those techniques were invaluable during labor. They may sound hokey or silly but I assure you-they made a huge difference. I can't tell you how happy I was with how fast my labor progressed (5:30PM – to the hospital, 10:26PM the baby was born). I remember the hospital staff saying what a great job you did-I literally walked into the hospital at 8cm dilated!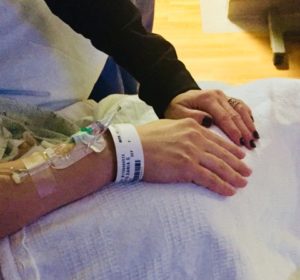 I also want your potential clients to know the work that goes into being a doula. Just the planning stage alone is critical. Thank you for meeting with me two times before labor and getting to know me and my wishes for my labor and delivery. Being a doula takes tremendous dedication and selflessness. Your work ethic personifies what it really means to be a doula.
I think every mother deserves to have a doula like you. My labor experience is yet another proof that doulas make a huge difference in the length and the quality of labor." Daria P.
Postpartum only: "Claudia was a lifesaver. My husband and I were in desperate need of some  sleep, so she came to our home to do the overnight shift for our 7 week old son.  Each night I felt confident going to bed and not worrying about leaving him with her. Each morning she recapped the night with me and offered suggestions which were very helpful.  She took great care of him and showed such interest in his well-being. We are forever grateful for her help during this journey." Amy W.
"Claudia was my doula for the recent birth of my son—and she was totally and completely worth the investment. She came with high recommendations from my midwife, and she did not disappoint. She learned about me, my husband, and us as a couple in depth to be able to provide the support we needed during labor, as well as knowledge about pregnancy, birth, and early childcare. She was there when I called her at 4am on the way to the hospital and for the next 14 hours was caring, attentive, supportive, and brilliant. When I was having back-to-back contractions her hugs were about the only thing that made me feel better (seriously, they reminded me of my mom!), and she found amazing ways for my husband to be able to help (including having him crawl into the bed with me to hold me when I was reaching a low point). My husband is normally unsteady when it comes to anything medical but Claudia helped to prepare and support him so that he could be an amazing birth partner as well, and by the end he was so involved and doing things he never thought he would (e.g., watching the crowning, cutting the cord). It's amazing how someone I literally have been with 4 times felt so close to me during such a raw, emotional, and vulnerable time, but I can't imagine having gone through labor without Claudia. Claudia brings that beautiful combination of genuine warmth and caring along with clear knowledge about the science of birth that I was looking for. I would hire her again in a second for any future births!" Katie R.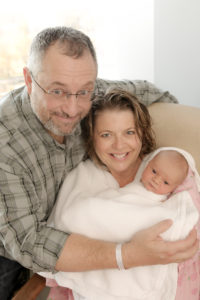 "I can't imagine this birth without Claudia!
Pre-birth she provided us as first time parents with great education and exercises to build our confidence. She helped me process my fears and was so generous with her time and support. During the birth, she was incredible – comforting me as a mom, helping me through a tough labor, and making my husband the best coach I could have had.
No one should do this without a doula! Claudia was a champion for everything we wanted and helped put all parts of the process into perspective – before, during and after. Claudia is kind, funny, smart, compassionate and clearly on a deeply felt mission to support families during this time. She obviously loves what she does. She was a true gift to us and we're so grateful." Maren
"When the doula I had hired was out of town for our (unexpected) early birth, Claudia stepped in and hit a home run. She was caring, sensitive, and connected immediately with me and my family. She was right by my side the entire time, encouraging me to try different labor positions and reaffirming my desire to have the birth experience that was right for me. She was supportive with each and every decision without judgement. She wrote a beautiful letter detailing the events of that day and night that I will cherish.  Since the birth, Claudia has remained supportive and goes out of her way to help connect me with resources to thrive in the postpartum period." Megan M. 
"I was introduced to Claudia as a back-up in case my doula would still be out of the country when my baby arrived.  As it turned out, my baby came early and I was so thankful Claudia was a part of our special day!  Claudia is warm, knowledgeable and passionate about being a doula and truly "mothering the mother."  She was a great support through my labor and especially post partum when I really needed it most.  I consider myself lucky to have met Claudia and strongly recommend her to anyone looking for a caring, compassionate doula!" Victoria L.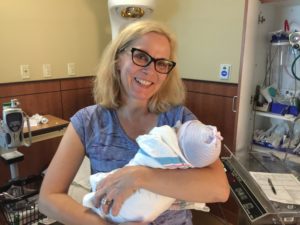 "We are second time parents in a quest for a positive birth experience for our second baby. We had out first little girl 18 months ago and we were less than happy with a few aspects of the delivery: mainly the support/guidance we received from the nursing staff, the results we got with the epidural, and the lack of transparency from the medical professionals during the whole process. With our second little one, we had the opportunity to do things a little different. After a lot of extra reading online and talking to families and professionals in our area we decided to give a go to a few new things: obviously we changed gynecologist and hospital, but in addition we decided to learn hypnobirthing and having a doula (Claudia). Our feedback to everyone after working with Claudia would be: you WANT Claudia in your corner. It does not matter how easy or hard your pregnancy or delivery are, Claudia will make them better. She came home twice during the pregnancy and gave us a ton of practical advice and exercises we rehearsed throughout the pregnancy. On the day of the delivery she was with us at the hospital by the time we were checking in at 3:30 am. She was reassuring, communicated clearly, effectively, and was also very familiar with hypnobirthing and all aspects of the delivery process (baby's position within the belly, things to do during the labor to progress appropriately and what feelings the mom could expect were some of the highlights). Claudia was knowledgeable, and had an excellent sense for when she had to step in and help, and when to step out and let us just have our space. Even our gynecologist commented on how helpful and intuitive Claudia was. My husband and I are both really thankful that we found Claudia to help us down this process. We have had a wonderful experience this time around. Claudia has a true gift to make birthing an enjoyable, positive experience." Hugo M.S.
"My husband and I we're given advice to have a doula during our pregnancy experience because of issues during our first pregnancy; were so glad we did! Claudia was wonderful with everything! We couldn't have asked for better support. she taught us things we could do to be comfortable at home, ways to cope with pain, and how to have a peaceful environment! I would recommend anyone to have her caring nature and knowledge during this very delicate process! Thank you Claudia, you came highly recommended and didn't Disappoint!" Ashley-O.-F.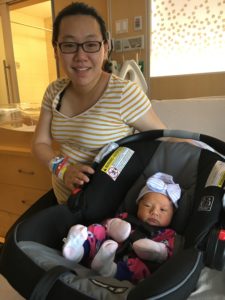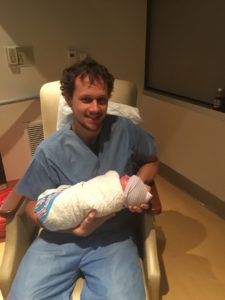 "Claudia supported my husband and I throughout the prepartion for and delivery of our first child.  She was an incredible support to us during this time and she helped us make our daughter's delivery special and fulfilling to us.  During our second and third trimester, Claudia got to know us and our labor preferences and then she worked with us in our home to help us prepare for labor and taught us various coping techniques that we utilized during labor.  She would check in with me regularly to see how I was doing and she was there for me whenever I had questions.  Claudia was a great asset to us during my labor, which ended up being difficult due to the baby's position. She was respectful of our medical team while still being a supportive counselor to both my husband and myself.  I would highly recommend Claudia to anyone looking for a supportive and loving doula.  What stands out to me was the patience and kindness she showed us.  She went above and beyond our expectaitons and she cared for us so well that we felt as though we were her family members." Jane B.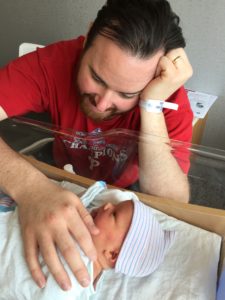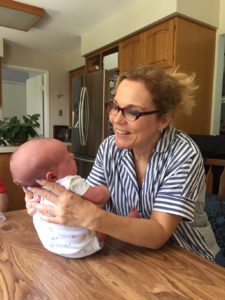 "Everyone should have a doula. Claudia went above and beyond to help me after I was "discharged" from the hospital in the beginning of labor for being only 2 cm!" I ❤Claudia" Natalie V.
"You are the wonderful doula who stayed with my children and supported them through all this time! I can't thank you enough!" new grandma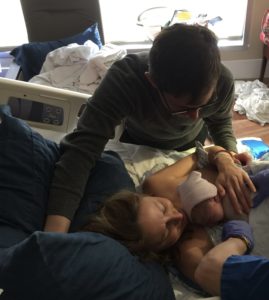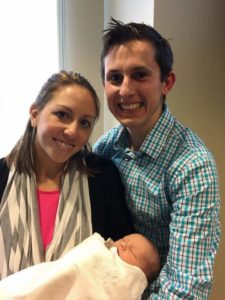 "My husband and I felt that having a medication free, natural delivery would be best for our baby. Claudia worked with both of us before delivery to help her understand what pregnancy exercises and natural pain management tecniques would work best for us. She is well-versed in spinning babies, ribozo, and natural labor induction methods.  Upon arriving at the hospital for an induction a week after my due date, I was nervous, but Claudia put me at ease and reminded me that I was capable of having the natural birth we hoped for. During labor and delivery Claudia was calm and encouraging. When my contractions became very intense, she suggested various positions to make me more comfortable. She also stayed with us and followed my progress the entire time.  I felt safe and at ease with her there as there were long periods of time in which the nurses and my midwife were not present.  I know that without Claudia's unwaivering support and encouragement, I would not have been able to have the successful medication free natural delivery that I did. My husband and I are forever grateful for all of her time, effort, love, and nurturing. We would highly recommend Claudia to any mom and/or couple navigating the birthing process. Meaningful beginnings helped our family have the birth we hoped and planned for. Avery, Andrew, and I can't thank Claudia enough for the wonderful experience we had! We love you!"                                                            Liz & Andrew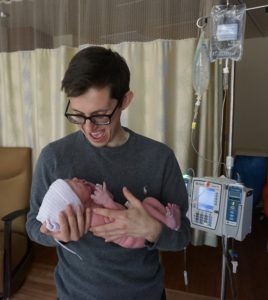 "As a husband, I found it particularly helpful to have Claudia with us during labor and delivery. As a new parent, although we took birthing classes, nothing can prepare you for what labor will actually be like. I found it extremely helpful as a father to have a doula present during labor and delivery. Without Claudia, my anxiety would have been apparent to my wife, which would have made her nervous. It was reassuring to know that my wife's pain was normal and Claudia helped me help my wife with various relaxation methods to help my wife know that I was supporting her."  Andrew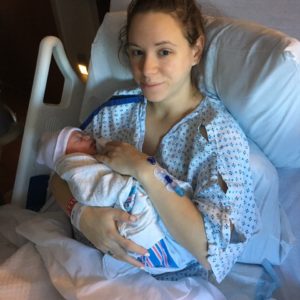 "It was my first baby and Claudia was just what a first time mommy needed. The calmness and supportive nature not only on the night of delivery but throughout the latter stages of pregnancy was extremely helpful and beneficial for us. Sometimes becoming new parents can be a daunting experience, but it should not be and Claudia constantly reminded us of this.
You were my friend, my confidant and there was one moment in particular in the delivery room where you were just like a mother to me. The pain was very intense and the doctor said not to push and only you could give me what i needed, the assurance that i can make it through and not push. You kept reminding me of how strong of a person I am and all I've been through and that I could make it through this and to finally be holding my beautiful baby girl. You are officially a part of our little family. We love you!"
Love always
Bella, Austin, and baby Holly
"Thank you so much! I don't know how she would have gotten through this without you!" new grandma
"Well done, Doula (Claudia)! You have a great connection with the patient. She listens to you and works well with you! Great job!"    – attending anesthesiologist Capital Health Hopewell
"Claudia was very supportive and connected very well with the patient. She was very calm and reassuring and helped to decrease the patient's anxiety." 5/5 rating, attending nurse, Hopewell Capital Health