Hello and welcome to Meaningful Beginnings!  My name is Claudia Parris and I am a DONA International certified Birth and Postpartum Doula, a certified Lactation Counselor and a certified Body Ready MethodSM Professional based in the Princeton area in NJ.  My doula services cover Central NJ and Bucks County. I look forward to joining you in creating precious lifelong memories before, during and after birth, and together bringing deeper meaning into the beginning of this new phase in your life!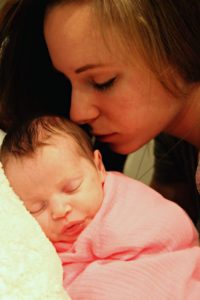 My philosophy
A new phase in life can make us feel vulnerable, anxious, and insecure. We tend to question what lies ahead. Whether this is your first baby or a new addition to your family, I believe that at this time you are laying the foundation of your new "home-life" upon which you will continue to build in the coming years. Your birth experience and the early months of parenthood can have significant impact on you and your child. Through non-judgmental care, loving compassion, and encouragement, I will assist you be better prepared, develop a peaceful inner strength that will carry you beyond your birthing experience, and help you make your own well informed decisions. I will feel deeply honored to walk alongside you throughout this exciting time in your life, and by doing so help you become more confident and relaxed for your continued journey as a parent.
"She is the DOULA you want to have during your labor and delivery… She is the best! Very professional and loves what she does." Audrone S.
"…With great care and affection, Claudia assisted with helping keep me focused on my breathing, in a positive mental state and trying various positions to navigate through contractions.  Claudia was great!…" Kristina
"Thank you so much, Claudia. We are very thankful that we found each other and walked this path together. You have a very special gift. We have been talking about you to every one here. Our gynecologist was very impressed as well …. She mentioned how naturally you stepped in when necessary and stepped out when not needed. You are the best!" ……. And after the postpartum visit: "Thank you Claudia. It is priceless for me to see J. so happy and healthy after the delivery. Thank you for your help!" Hugo M.S.
"…we have agreed that we could not have had such a beautiful birth experience without you.. I remember the hospital staff saying what a great job you did …My labor experience is yet another proof that doulas make a huge difference in the length and the quality of labor." Daria P.
"Having you as our doula was the best choice we could have made – you are the best doula, thank you so much!!" Aparna R.
"Claudia, There are no words of gratitude that can express our feelings for you as our Doula – you are tied to us forever! Thank you for helping bring our family together. We love you ~ Patrick & Maren & baby J.
after an additional prenatal visit: "… thank you again for coming by today.  I have to say I have not felt this relaxed in months :)" Rupal V.
… "Thank you Claudia, you came highly recommended and didn't Disappoint!" Ashley-O.-F.
"….She was an incredible support to us during this time and she helped us make our daughter's delivery special and fulfilling to us…"I would highly recommend Claudia …  What stands out to me was the patience and kindness she showed us.  She went above and beyond our expectations ……" Jane B. 
"It was my first baby and Claudia was just what a first time mommy needed. The calmness and supportive nature not only on the night of delivery but throughout the latter stages of pregnancy was extremely helpful and beneficial for us…." Bella
"Claudia was very supportive and connected very well with the patient. She was very calm and reassuring and helped to decrease the patient's anxiety." 5/5 rating, attending nurse, Hopewell Capital Health
"As a husband, I found it particularly helpful to have Claudia with us during labor and delivery. …… I found it extremely helpful as a father to have a doula present during labor and delivery. Without Claudia, my anxiety would have been apparent to my wife, which would have made her nervous….." Andrew. F.
"Claudia is an outstanding doula. I know I would not have had the wonderful birthing experience that I did without her!" Liz F.
"Great labor support! " 5/5 rating, attending midwife, Princeton Hospital
 The entirety of these testimonials and more are found on the testimonial page 🙂